What Are the Advantages of Bossda Dough Sheeter Machine?
Views:5 Author:Site Editor Publish Time: 2019-04-24 Origin:Site
Dough sheeter such as tabletop dough sheeter and vertical dough sheeter is mainly used for all kinds of bread, cakes, cookies plastic and all kinds of pastry production. There are different kinds of dough sheeter in the market. And Bossda bakery equipment company is a famous dough sheeter producer. Here are the advantages of dough sheeter from Bossda company.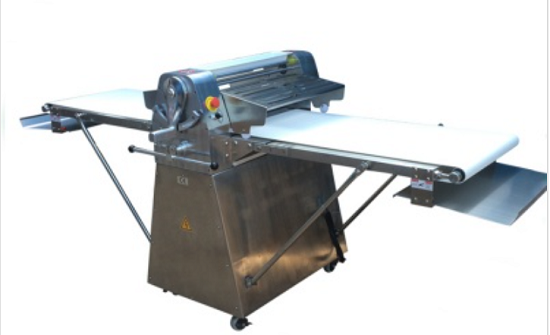 Here are the content list:
l Slice method
l Range of application:
Slice method
Dough sheeter adopts import fittings, superior material, after hard winding treatment, non-stick surface is not easy to scratch, unique oil-immersed design, low noise. Bossda dough sheeter machine is not easy to be worn out.
The scraper is specially designed and the price of the bread raising machine is low and reasonable, the thinnest one can be pressed to 1mm, and the thickness is even; It owns folded design to reduce space and is easy to handle;
1.High quality aluminum plate in chamber, all outside in stainless steel
2.Using intelligent dual display temperature control system, the temperature error is small, the failure rate is low.
3.Oven door with high temperature door seel, to avoid the phenomenon of leakage, to enhance the oven insulation performance.
4.Fine technological design, not hurt the hands.
5.The use of chain drive, to aviod the spring often break.
Range of application:
All crisp products, (such as: Dan dream crisp, wife cake, etc.). A small amount of dough can be crushed. This machine can be widely used to do: dough sheeter machine is suitable for making pastry, pastry, Danish cakes, pastry cakes, apple pie, etc.
With high quality and firm structure, dough sheeter can be widely used in bakery, bakery, snack shop, western restaurant, tea restaurant and snack food factory.
Bossda dough sheeter has reasonable price, suitable for pastry, pastry products. It also can be used for rolling dough.
This machine has the advantages of stability, long service life, professional design, making the dough can be pressed to the thinnest. The price of bread raising machine is cheap. The thickness is even. The operation is safe, hygienic, which is easy to clean, folding structure.
This machine roller selection seamless steel pipe, through computer lathe processing, grinding, hard chrome plating and other processing, roller surface is not paste, not easy to scratch, imported conveyor belt, no pilling, wear resistance.
Bossda dough sheeter machine adopts imported motor parts to increase the service life. The confectionery pastry machine is designed for the processing of bread and other pastry. The price of the pastry machine is low, and the machine can be rolled over quickly and the thickness can be adjusted at any time. It is the standard equipment of the production line of tri-wheat crisp bread with stable and noiseless operation, average roller clearance, upright design, and foldable table top. Easy to operate; Confectionery pastry machine shell multi-layer baking paint, bread pastry machine is cheap, and easy to clean and maintain.
Guangzhou Bossda Mechanical Equipment Co., LTD. is a professional food machinery manufacturer specializing in research and development , production , marketing and export , which provides vary kinds of food equipment for bakery&restaurant and large unmanned factories .
and large unmanned factories .